Education Programs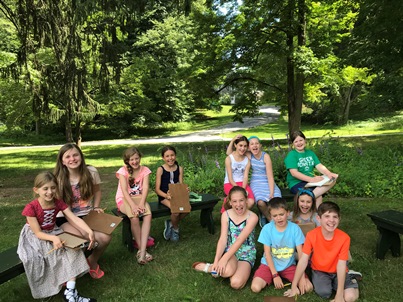 The Haddam Historical Society is most proud of our award-winning educational programs. Since 1994 we have provided students with hands-on learning experiences designed to be age-appropriate, fun, and correlate with and enhance the school curriculum. The Society currently hosts students in multiple grades from Regional District #17. The goal is to enrich students' understanding of, and appreciation for, history and the heritage of our town.
Summer Program:
2023 Summer Program is FULL.
A Week in the Life of an Early American Child
June 19-23, 2023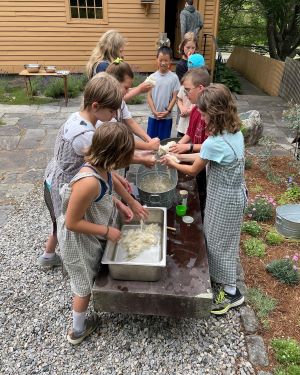 The Haddam Historical Society will hold its popular summer program, "A Week in the Life of an Early American Child," from Monday, June 19 – Friday, June 23, 2023 from 9 am to noon each day. The program is offered for girls and boys ages 8 – 12.

Students will travel back in time to the year 1830 and spend the week with Mrs. Thankful Arnold and her family. All activities take place at the Thankful Arnold House Museum in Haddam, and they include caring for farm animals, crafting with wool, making butter, baking, playing with Colonial toys and games, and even dancing! The fee is $139 for the five days with all materials and snacks included. Some scholarship funding is available.

For questions regarding the program or scholarship information, contact Sarah Neal, Education Coordinator, The Haddam Historical Society, at education@haddamhistory.org or call 860 345-2400. All students must be pre-registered as space is limited.
---
For Grade Two:
Haddam Center Tour (May)
Students visit six sites relating to Haddam history and government. The Thankful Arnold House, Courthouse Green, The Ancient Burial Yard, and Brainerd Academy all reveal pieces of Haddam's past. At the Town Office Building students learn about Haddam's present.
Curriculum connection: Social Studies - Community Government and Services: job of the Board of Selectmen, what a town meeting is; Communities of yesterday and today: familiarity with history of local community.
---
For Grade Five:
Life in an Early American Home
Girls and boys of today discover how different their roles were in the Early America. Girls stitch a mini-sampler and realize the importance of their domestic skills. Boys make a kite and learn how many chores outside the home depended on them.
Curriculum connection: Social Studies - General Geography: regions of the US; use and creation of time line; New England Colonies and Revolutionary War (home life).
---
---
For Information on Girl Scout Programs
For more information on program scheduling, fees, and registration, contact Sarah Neal, Education Coordinator, at the Haddam Historical Society: education@haddamhistory.org. If you are interested in other badges, let us know!