Haddam Shad Museum
The Haddam Shad Museum, founded by Dr. Joseph Zaientz of Haddam Neck, focuses on the importance of the shad fishing industry to Haddam and the lower Connecticut River Valley. Housed in the former Bill Maynard Shad Shack, the museum features many important and unique artifacts related to this once-important local industry and is the only museum in the country solely devoted to shad fishing.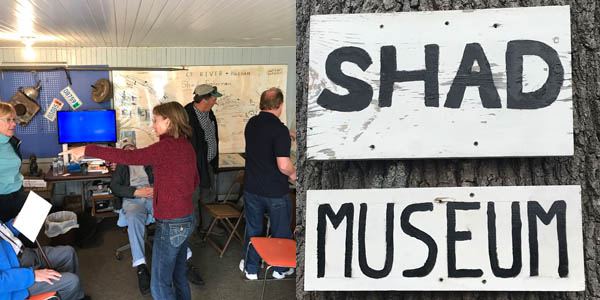 The museum is staffed by local volunteers and fishermen, who are knowledgeable with both commercial and sport shad fishing, and are available to answer questions. The museum also has demonstrations of boning and planking shad.
The History of Shad Fishing in Connecticut
Shad, the Connecticut state fish, has been harvested in town since its founding in 1662. From 1760 through the 19th century, shad fishing was a successful commercial enterprise and was said to be "an industry of much profit and importance" in Haddam.
In 1814 there were at least 17 locations in town where shad were caught and that year saw a catch of 200,000. Over most of the history or shad fishing, it was done by 'haul seining' during the daytime, but this practice stopped in the 1950s when the fish became less numerous and river travel increased. Shad fishing now is done by law at night with 'drift nets.' Boning shad was and is today considered an art form.
Address

Higganum, CT 06441
Hours
The Shad Museum will be closed for the 2023 season as we prepare to move the building to its new location.
For additional information, call the Haddam Historical Society at 860-345-2400