Highlights of Collection
---
The Haddam Historical Society has made it a priority to collect, preserve and promote archives and artifacts that represent the rich history of Haddam's past. These items range from autograph collection books to an authentic Scovil Hoe. Learn more about "highlighted" items from the collection and interesting items from the vault.
Highlights
An Invitation to a Soiree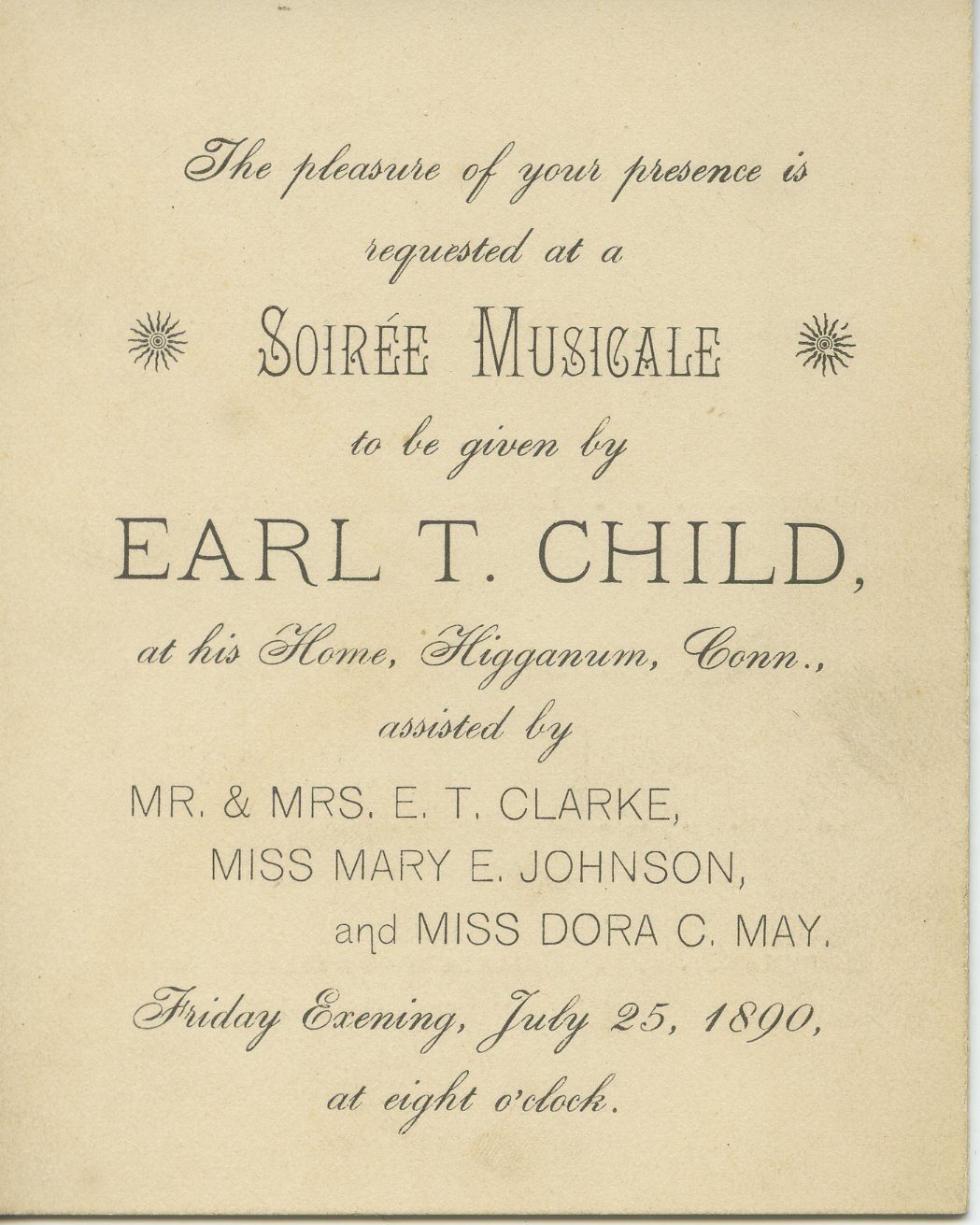 Featured is an invitation to attend a Soiree Musicale hosted by Higganum resident Earl T. Child on July 25, 1890. In the late 19th century Soiree Musicales were a popular form of entertainment and socializing. They primarily featured Victorian parlor songs and operatic pieces performed in middle-class homes by amateur singers and musicians. The events at Mr. Child's home featured both piano and vocals.

Mr. Earl Child was only 21 when he hosted the event. He was the only child of James H. and Carrie Child and a member of the well-known shipbuilding Child family of Higganum Landing. It appears he held other musical events in the home he shared with his parents at the corner of Saybrook Road and Landing Road. Earl, a piano and music teacher in Middletown between 1893 and 1896, suddenly died at the age of 26 years and 11 months in 1896. His obituary noted that "Professor" Child died in Pueblo, Colorado and left behind many loving friends to mourn his loss. An active member of the Knights of Pythias Red Men and O.U.A.M of Middletown, Child's service was conducted by the group which brought "magnificent floral offerings as their last token of love and respect."
---
Medicine Bottles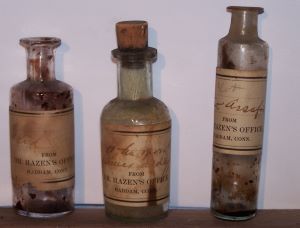 Featured are medicine bottles from the office of Dr. Miner C. Hazen, Haddam, CT. Dr. Miner C. Hazen was a physician in Haddam for over 50 years in the last half of the 19th century. Born in Agawam, Massachusetts he graduated from the University of Michigan with a medical degree. Hazen first practiced in Middletown, then moved to Haddam around 1860 and built the family homestead on Walkley Hill Road. Dr. Hazen was also Dean of the Middlesex County Medical Corps and an original incorporator of Middlesex Hospital. Interests included agricultural pursuits and he bred Jersey cattle and experimented with "grass types". He was also an early proponent of cremation over burial on sanitary conditions and spoke frequently on the subject.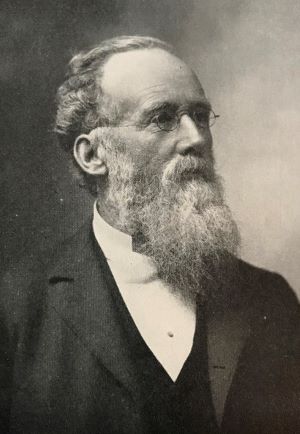 He was an active member of the Granite Lodge, Haddam Baptist Church and later the First Congregational Church of Haddam. Miner and his wife, Lemira, had eight children including Edward Hazen founder of the Hazen Foundation and donor of Haddam Meadows State Park.

His obituary states "The poor and needy always found him ready to relieve their distress and he was well informed and remarkably skillful in diagnosis and prompt and efficient in treatment".