Connecticut's Historic Gardens Day
Thankful Arnold House Museum, 14 Hayden Hill Road, Haddam, CT
2023 Connecticut's Historic Gardens Day, June 25, 2023
Connecticut's Historic Gardens is a group of 16 distinctive historic sites and gardens located throughout the state that offer visitors an opportunity to explore a variety of garden styles and time periods. Each year on the fourth Sunday in June the sites are open to the public to enjoy their beauty and history and foster an appreciation for these unique and special Connecticut landmarks.
Visitors can learn about a simple Colonial- period herb gardens to elaborate Colonial Revival era gardens and enjoy a lovely afternoon in a historic setting. Each site has something special to offer the entire family.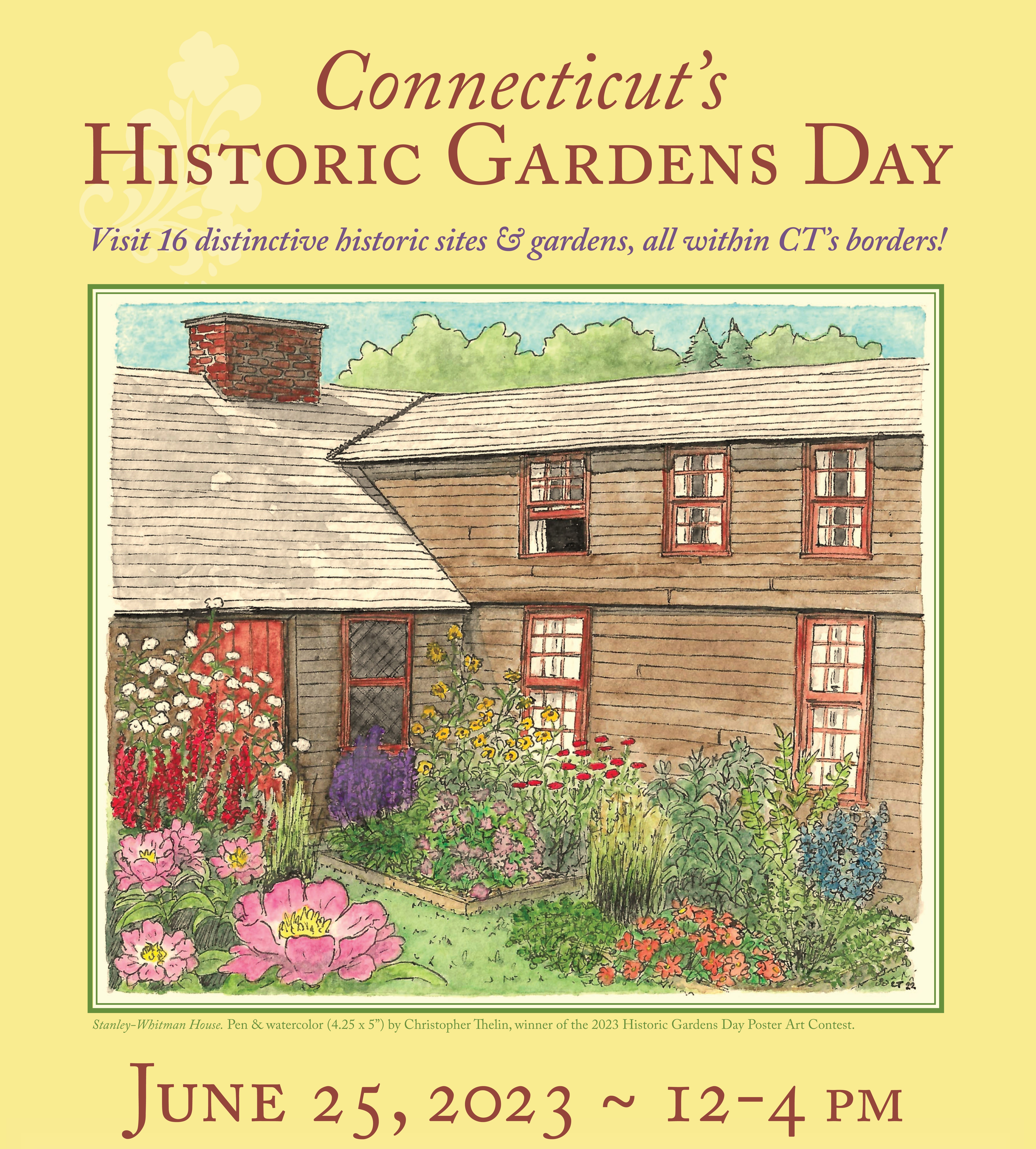 Connecticut's Historic Gardens (CHG) cultivates a passion for the diversity of historic gardens at distinctive historic homes in Connecticut. By partnering through shared marketing initiatives, CHG brings greater recognition and visitation to member sites, offering visitors experiences rich in beauty and history, and fostering learning. The group consists of 15 sites throughout the state: Bellamy-Ferriday House & Garden, Bethlehem; Butler-McCook House & Garden, Hartford; Florence Griswold Museum, Old Lyme; Glebe House Museum & The Gertrude Jekyll Garden, Woodbury; Harkness Memorial State Park, Waterford; Harriet Beecher Stowe Center, Hartford; Hill-Stead Museum, Farmington; Mark Twain House Museum, Hartford; Osborne Homestead Museum & Kellogg Environmental Center, Derby; Phelps-Hatheway House & Gardens, Suffield; Promisek at Three Rivers Farm, Bridgewater; Roseland Cottage, Woodstock; Stanley-Whitman House, Farmington, Thankful Arnold House Museum, Haddam; Webb-Deane-Stevens Museum, Wethersfield; and Weir Farm National Historic Site, Wilton. For more information about the group, individual participating sites, and events, please visit cthistoricgardens.org.