Arnold Family Genealogy
Joseph Arnold & Thankful Clark Arnold:
Joseph Arnold: Born January 21, 1774; Died January 12, 1823
Parents: Samuel Arnold Jr. (1746-1805) and Elizabeth Smith (1748-1825).
Joseph's great, great grandfather Joseph Arnold was an original proprietor of Haddam.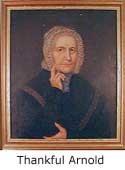 Thankful Clark Arnold: Born February 15, 1776; Died August 19, 1849
Parents: Joseph Clark (1753-1831) and Sarah Dudley (1757-1839) of Chester, Connecticut.
Thankful was the great, great, great, great granddaughter of John Alden and Priscilla Mullens of Mayflower fame.
Joseph Arnold and Thankful Clark married in 1797.
Children of Joseph & Thankful Arnold:
Nancy (1797-1798)
Died as an infant and is buried in The Burial Yard at Thirty Mile Island Plantation Cemetery.
Jonathan (1798-1872)
Married Ursula Smith circa 1824.
Nancy (1800-1884)
Lived in the "Thankful Arnold House" her entire life. Never married.
Joseph Jr. (1802-1869)
Married Clarinda Hubbard in 1821 in Westfield, Massachusetts.
George (1803-1832)
Died in New York City at the age of 29.
Ann (1805-1805)
Died as a newborn and is buried at The Burial Yard at Thirty Mile Island Plantation Cemetery.
Samuel (1806-1869)
Attended Westfield Academy. He owned the Arnold Granite Quarry with his brother Isaac and owned ships which exported granite to ports such as New York, Philadelphia and New Orleans. He was President of the East Haddam Bank and member of the 35th Congress (1857-1859). Samuel also served in the State Legislature from 1839-1844.
William (1808-1893)
Worked in the local granite quarry and was a ship captain. Married Emma E. Cole of Chatham, CT. They had 15 children including Ephraim Pierson Arnold, a well-known Haddam Judge of Probate.
Hannah (1810-1823)
Died at the young age of 13.
Sarah Elizabeth (1813-1849)
Never married. Helped her mother and sister run the house and frequently helped sick family members and friends. We know she was in Brooklyn, New York in 1849 caring for the sick child of a family friend. Sarah died just a month after her mother.
Isaac (1815-1892)
See below.
Charles (1817-1859)
Married Eliza Ann Bingham of East Haddam. He was stonecutter, mailman and director of the East Haddam Bank. Charles also served as a State Senator, State Representative and Justice of the Peace.
Isaac Arnold (1815-1892):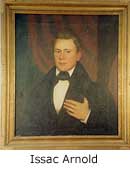 Isaac was schooled in Massachusetts and joined his older brother Samuel in the quarry business at age 17. The two men were partners in the business until Samuel died in 1869. Isaac continued the business until he retired in 1885. He represented Haddam in the State Legislature and was a delegate to the National Democratic Convention.
He married Mary Ann Thomas (1816-1849) in 1834. They had three children:
Isaac Jr. (1840-1901)
Attend school at Brainerd Academy and in Westfield and Wilbraham, Massachusetts. He attended West Point and graduated in June 1862. It is recorded he had a brilliant career in the Civil War. He married Lucetta Apgar of Hartford and had six children; Henry, Charles, Irene, Laurence, Lucetta, and Ruth. It was Laurence's son, Isaac Arnold (1905-1973) who was responsible for the restoration of the Arnold House in 1963-1965.
Henry (1842-1844)
Sabra Ann (1846-1920)
Attend Miss Payne's Seminary in Middletown as a young girl. In 1872 she married John Ingersoll (1845-1885) who worked in the Arnold quarries until his death. Upon her husband's death, Sabra and her two young children took up residence in the Thankful Arnold House The couple had had two children (see below).
Isaac later married his deceased wife's sister, Maria Mehitable in 1856. He resided in Haddam until his death in 1892.
Children of Sabra Ann & John Ingersoll:
Harriet (1875-1962)
Charles Merritt (1878-1961)
Married in 1902 Cornelia Post (1871-1962) and lived in the Arnold House for most of his life. Charlie was a housepainter and in the early 20th century the Ingersolls operated the "Red House Tea Room."